I lift up my eyes to the mountains—where does my help come from? My help comes from the Lord, the Maker of heaven and earth. – Psalm 121:1-2
It had been a particularly rough morning getting my children into the car for school. My middle son had been dawdling all morning, oblivious to the time. My older son had been frantically hunting things down for school that weren't packed the night before. Plus, I woke the baby out of a dreamy sleep to make the drive.
When mornings go down like this, and despite my best effort they sometimes do, I try to take a deep breath as I begin my drive. Maybe I turn on the seat warmer and some relaxing music, despite the unavoidable noise coming from the backseat. Amidst the sounds of baby coos or fusses, and jokes or games of finger chopsticks between my older two boys, I feel a nudge to look up.
As I peer through my windshield, I see a flock of geese flying in a "V" across the sky. They pump their wings so effortlessly. The air around them is lit with winter hues—striking pink and orange due to the sun angle, which makes the scenery appear in high definition. It's clear and cold and somehow glowing all around me. I can sense God, and my whole body relaxes in this beautifully orchestrated moment of peace.
That peace meets me despite the chaos around me, not in the absence of it. Nature offers the same release even to my infant. I marvel at the fact that my baby can be quite fussy, but if I walk outside, he will often calm right down. He observes the temperature difference on his skin, feels the wind against his cheek, hears a bird calling, and tracks a playful squirrel with his eyes. His little body knows the retreat and calm of nature, which we as adults can sometimes forget.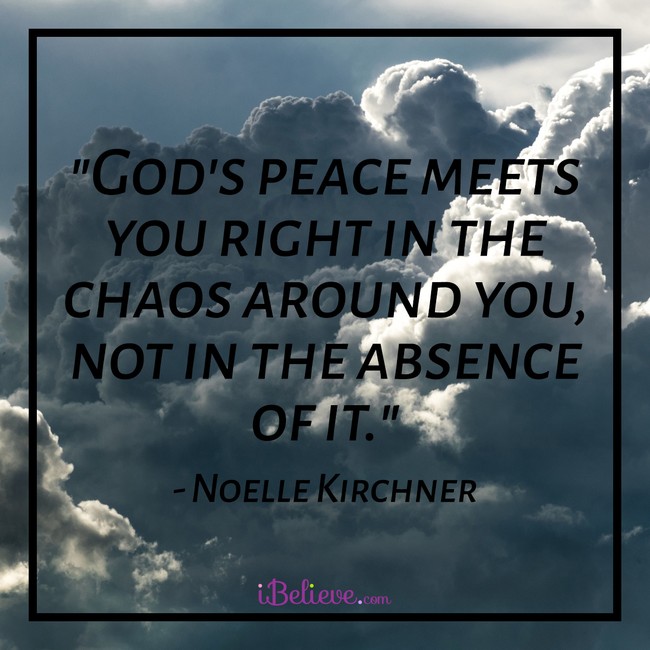 Experiences like these make me believe that we're hardwired by the Creator to seek him in creation. The psalmist's words demonstrate faith in a personal and cosmic God—God is both "my help" and the Maker of heaven and earth, respectively. Through creation, God exercises both roles. Nature offers us the chance to remember and learn about him and receive his blessing and peace. Observing the work of his hands allows him to somehow pull us close.
While everyone can benefit from time spent in nature, for some this experience is vital to their intimacy with God. My husband, for instance, feels closer to God in the quiet of the rolling hills than in a crowded worship service. Maybe you do too.
Worship as a body in church is important, but worship can happen anywhere, anytime we open our hearts in reverence to the Lord. When is the last time you took a deep breath and allowed God to meet you in the quiet of the world around you? Sometimes intimacy can come as naturally as opening your eyes and receiving God's goodness in the moment that he has handcrafted for you right outside your doorstep.