A Prayer to Refill Your Empty Spirit
By: Kristine Brown
"And I pray that you, being rooted and established in love, may have power, together with all the Lord's holy people, to grasp how wide and long and high and deep is the love of Christ, and to know this love that surpasses knowledge—that you may be filled to the measure of all the fullness of God." Ephesians 3:17b-19 NIV
This morning I grabbed a cup of coffee and settled into my favorite chair to start my morning prayer time. I thumbed through the pages of my prayer journal, where I record needs to bring before the Lord in prayer. Keeping a journal helps me stay focused as I pray. Only today, something remarkable happened while pausing to reflect on each page.
I noticed prayer after prayer I'd recorded in past months and realized that God had answered many of those prayers. I suddenly felt an indescribable fullness of God's love. My heart swelled and gratitude overcame me. Tears poured out, and I couldn't contain them.
I knew then that this must have been how David felt when he spoke the words of Psalm 23:5, "…my cup overflows." Because in that moment, I felt God refilling my spirit.
We can go through our daily routine feeling spiritually depleted. Sometimes our cup is empty, and we don't even know it because we've been going through the motions for so long. Thankfully, throughout God's Word we see evidence of His outpouring of love for our empty spirits.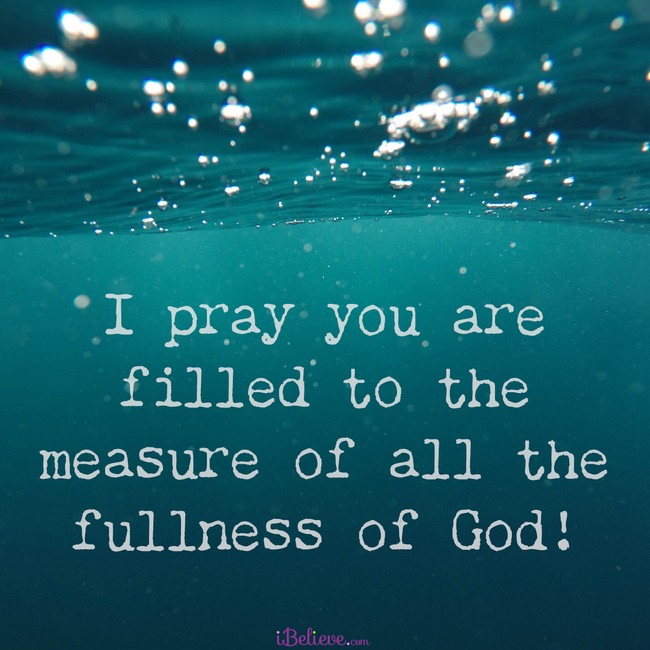 Today's verse from Ephesians is part of a prayer by the apostle Paul for the church at Ephesus. He prayed for the people to have strength from the Holy Spirit, Jesus living in their hearts, and the fullness of God's love. Paul also wrote about God's fulfilling love in Romans 5:15, "And hope does not put us to shame, because God's love has been poured out into our hearts through the Holy Spirit, who has been given to us."https://163a68a6022d735a091573afcfcd5bef.safeframe.googlesyndication.com/safeframe/1
When we feel empty, nothing fills us like God's love.
By taking time in my morning routine to reflect on God's goodness in my life, I sensed His presence overcome my emptiness. God filled me to overflowing, and He will do the same for you. Are you feeling spiritually empty today? Let's pray this prayer together and allow God to fill us.
Dear Heavenly Father,
Thank you for your promise to fill my cup when I feel empty. With this hectic life and the challenges I face, I forget that you are the source of my strength, joy, and peace. Forgive me for relying on my own ability, leaving me depleted. Thank you for your faithfulness. Thank you for refilling my empty spirit.
As I come to you in prayer, help me to break free from simply going through the motions. Forgive me for not seeing how you've been working in my life and answering prayers. Help me remember those answered prayers as I trust in you to do it again. Fill me with your presence, Lord, so I may overflow with your unending love.
In Jesus' name, Amen.