Meg Bucher
"And now these three remain: faith, hope and love. But the greatest of these is love." 1 Corinthians 13:13
Relationships remain imperfect because humanity is incapable of selfless love. Due to the fall in the garden of Eden, we are continually cursed with sin, keeping us from accomplishing correct communication with each other. Only one pair of feet have ever trod the earth in perfect obedience to God. Jesus came out of compassion for us. It's through Him, that we can find victory in life, and our relationships. Not through perfection of our behavior, but through the perfect forgiveness and hope that His love grants us.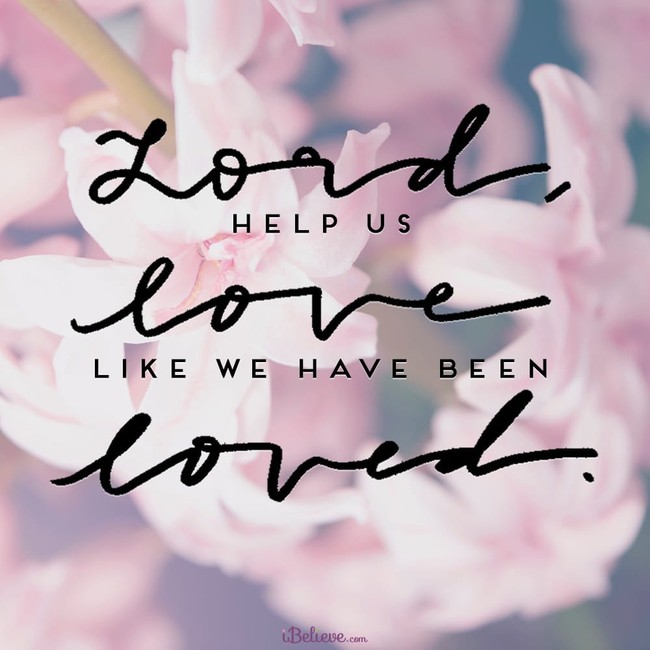 The very definition of 'struggle' is "to contend with an adversary or opposing force." We often pit the people on the other side of our relationships against ourselves. In addition to the disagreement at hand, we internally mull over all of the ways that we want them to treat us, and expect to be treated. We are set to a defensive default, but created to love.
"And now these three remain: faith, hope and love. But the greatest of these is love." 1 Corinthians 13:13
Jesus taught that this was the most important command. The NIV Notes on this verse say that "Jesus' teaching united his followers around love." Unity is the opposite of struggling opposition. There's nothing we can do to force our relationships to work. But we can focus on Love.
"The most important one," answered Jesus, "is this: 'Hear, O Israel: The Lord our God, the Lord is one. Love the Lord your God with all your heart and with all your soul and with all your mind and with all your strength.' The second is this: 'Love your neighbor as yourself.' There is no commandment greater than these." Mark 12:29-31https://82164193dab3a6e47db423b88daacc38.safeframe.googlesyndication.com/safeframe/1-0-38/html/container.html
There are times God will allow the door to be closed on unhealthy relationships, but most can be reconciled by His love. When we ask God to help us recognize the hardships that we bring into our relationships, our hearts can begin to grow out of that conviction. Prayer and time in God's word, and following the footsteps of Jesus' life on heart, can give us direction on the path to constructing new bridges where old ones have been burned.
God is love. We can cry out to Him in pain when our struggles to get along with others, especially the more important relationships in our lives, are hard and hurting. He commands us to love, but we cannot accomplish it without His grace. If we cannot, than understanding that no one else can, either, will help us extend that same grace to others. When we allow each other to be the imperfect people that we are, forgiveness flows easier. When we look to Christ as an example, He will show us how to find a way to mend our struggles with love.
Father,
Praise You for Jesus' example on this earth. We know that You are purposeful in the plan that You have or our lives, and for the people that you place in it. We are not always going to get along with everyone. Not always going to execute our behavior in Christ-like fashion. Help alleviate the shame of our imperfection, and help us to extend that grace to others.
Christ came to forgive us for every misbehavior He knew that we would choose to suffer by. Imperfect people dealing with imperfect people can get a little messy down on earth. We ask for You to cover us in Your grace, and convict our hearts to change and love more like Jesus every day that we wake to breathe again. Forgive us for letting the sharp edges of our sensitivities take over conversations, and the anxieties of our minds cloud our judgment. Help us to see others through Your eyes, as souls that You love just as much as You love ours.
Bless our hearts to soften towards others, yet protect us from deceptive motives. When there is a relationship that you wish us to walk away from, be it friendly or romantic, help us to hear a clear word from You. Bless our friendships to be godly and God-centered. Bless our marriages to be lifelong and blessed. When we struggle maritally, provide godly counsel and reconciliation, so that if at all possible we may honor our lifelong commitment to You and each other. Show us, by illuminating Your Word and blessing us with Your presence, how to be more like Jesus, how to love as He spoke, and You command.
In Jesus' Name,
Amen.